The Shooting Federation of Canada recently released their Long Term Athlete Development Document. This document is a framework for pistol, rifle and shotgun shooting athlete and coaching development in Canada.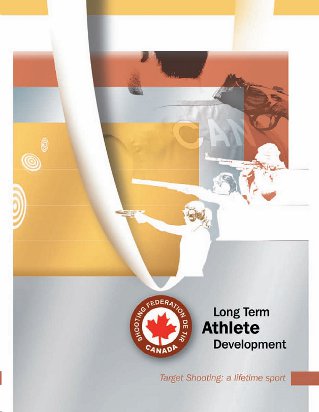 Here is an exerp from the SFC's LTAD...

Target Shooting is a well-established and highly respected international sport. It was one of the sports in the first modern Olympics in 1896 and has been part of every Summer Olympic Games since. Women's disciplines were first included in the 1984 Olympic Games in Los Angeles. World Championships were held for the first time in 1897 in Lyon, France, and in 1966 shooting events were included, for the first time, in the Commonwealth Games at Kingston, Jamaica. The Beijing Olympics included 15 different Target Shooting events for men and women.
Target Shooting is a contest of skill and precision. While physical conditioning plays a large role in success on the shooting range, mental preparation is the deciding factor for successful target shooters. Mental skills are of paramount importance if target shooters are to excel when faced with the enormous pressure of competition, whether at the local club level or the international podium.
Target Shooting is a late specialization sport. This means that in relation to many other sports, participants tend to enter the sport in the teenage years and, for those who advance to become competitive level athletes, attain peak performances as adults.
One of the major advantages of Target Shooting sports is that a competitive athlete can reach and maintain peak performance for many years. At the highest international level, many athletes have participated in several Olympic Games, and several of these competitors have been over the age of 60. As an example, Canadian Susan Nattrass has had one of the longest and most distinguished international careers of any athlete, in any sport. Not only was she first female Olympic shooter from any country in 1976, but the Beijing Olympics in 2008 was her 6th Games.
Many opportunities exist for target shooters to pursue high level competitive goals, even though they may only begin Target Shooting at an age that would be considered late in many other sports. In Canada, target shooters participate in both Olympic and non-Olympic disciplines. Some of the non-Olympic disciplines have a competitive circuit, including World Championships, while others are primarily recreational. Each discipline is distinguished by a specific type of firearm, target and distance.
This document focuses on Long Term Athlete Development (LTAD) for participants in the Target Shooting sports, particularly in the Olympic and Paralympic disciplines. By respecting the factors of LTAD, our programs and structure will meet the needs of all athletes in Target Shooting, regardless of age, interest or ability.
You can download a copy of the Shooting Federation of Canada's LTAD by clicking on the button below.
The Saskatchewan Handgun Association (SHA) has has also released their LTAD.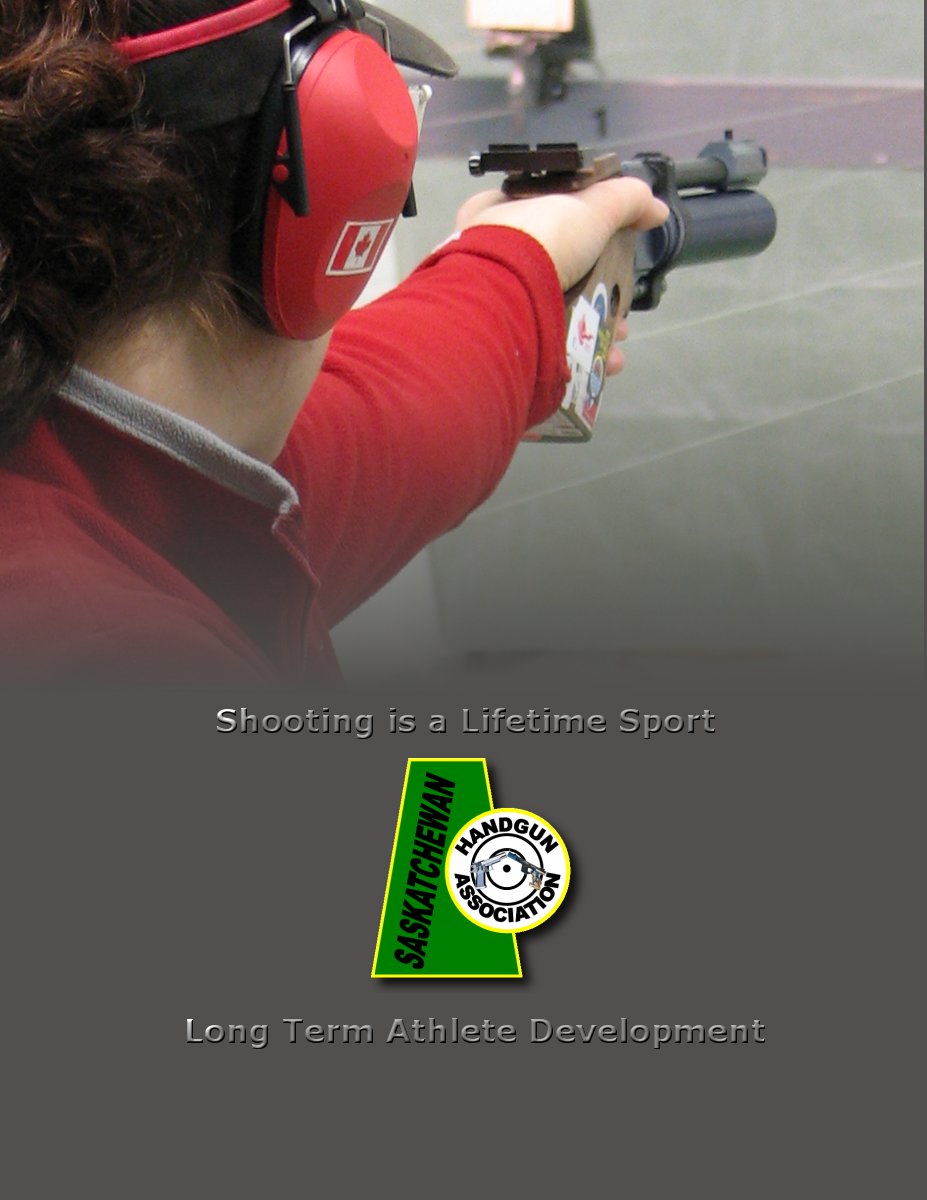 Here is an exerp from the SHA's LTAD...
The implementation of Long-Term Athlete Development is a milestone for shooting and for Canadian sport. For the first time every sport organization is building its plans around a common framework which aligns the sport system, integrates health and education with sport and physical activity. This document was developed by Saskatchewan's shooting experts, with the assistance of the LTAD Expert Group, and drawing on the experience and best practices of other sports. It closely mirrors our National Organization's (Shooting Federation of Canada) LTAD.
The SHA Long-Term Athlete Development Model
It only takes a single moment to become a shooter. You may hold a pistol for the first time at summer camp, accompany a parent or friend on a hunting trip, or watch Olympic shooting on television and decide to become a champion. You may be five years old, or fifty. The essential thing is that the first exposure to shooting provides challenge, reward and enjoyment - in other words, that it is FUN.
Fun is the basis for a lifetime in sport, a process of life-long development which is captured in the Long-Term Athlete Development Model.
The LTAD model groups the seven LTAD stages into a framework of Introduction to Target Shooting, Training to Win, and Target Shooting is a Lifetime Sport.
Introduction to Target Shooting represents the entry into the sport, up to and including the Learning to Train stage.

Training to Win represents development on a competition path as far as the athlete wishes to go.
Target Shooting is a Lifetime Sport reminds us that the athlete can remain active in the sport for a lifetime, through recreational competition, hunting or other forms of shooting, and as a coach, official and sport leader.

Of course, this framework does not mean that fun is not an essential part of Training to Win, or that a Target Shooting is a Lifetime Sport athlete cannot compete to win within his or her abilities. It is simply intended to represent a lifetime journey through the sport.
You can download a copy of the SHA LTAD by clicking on the button below.
Target Shooting is a Lifetime Sport!